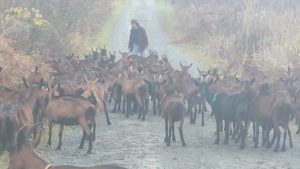 At St. John Creamery we are passionate about both raw milk and the Oberhasli girls that give it! Who would have figured that in November 1999 when I picked out 4 young does in case Y2K really materialized, that I would end up leaving my career in the city to trounce around in goat poop, staying up 'til all hours of the night birthing goats and get up at 4:00am to milk goats willingly – all for less than minimum wage??
The whole crew here at the farm, made up of apprentices, interns, volunteers, and me, can be found throughout the farm every day (the goats never take a day off). Milking, processing milk, maintenance, gardening, deliveries, and best of all time with the goats take up our days (and sometimes nights).
Like many of the folks I sell goats to, I am an entrepreneurial business person "gone country" in my middle years. I love getting my hands dirty in the garden, watching my free-range chickens taking sunbaths in the compost pile, watching the goat kids frolicking and bouncing from here to there while Anatolian puppies learn how to be big dogs from my pack leaders. Nothing in the city gave me such simple pleasures!
We love where we live and hope you enjoy your virtual visit!
Marcia St. John
Location: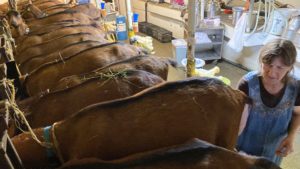 St John Creamery
1818 Pioneer Highway
Stanwood, WA 98292
Best Sellers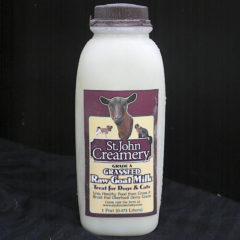 Raw Goat Milk For Pets
Our raw pet milk offers health benefits for your 4 legged family members. It contains 30 Live raw enzymes to aid in digestion, it neutralizes acid making their body alkaline, it heals gut issues, and it feeds their blood system strengthening their immune system. The best part is that is tastes delicious!
Just adding it onto the kibble food or next to it will bring improvements to your pet's health!
$

2.75 –

$

9.50
Select options